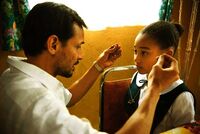 Fabio is portrayed by Jesse Borrego.
In the film, he plays as Cataleya Restrepo's father, who was killed infront of her. He left her with the words "remember where you're from".
Fabio is the brother of Emilio and husband of Alicia. Señor Luis is after Fabio, due to the fact that he stole an important code houser from him. His actions leads to his death, where he leaves Cataleya with the words "don't forget where you came from".
Personality
Edit
Fabio is a very loving person, well atleast with Cataleya. Before dying, he gave her a locket, the locket being a Cataleya rose. He said he named her "Cataleya", because he would always wake up to the sight of cataleya roses.